Vi Redington Fish Creek Crossing

Thank-you to the State TRAAK board for approving our Recreational Trail Grant application. We will receive further instructions about the permitting process in February.
We have also applied for the Bed Tax Grant and have support of the Knik Fairview Community council on that application. We will use the Bed Tax Grant as the Cash Match for the State Grant and building can get underway this spring. We will have detailed information at the next meeting if anyone is interested in learning about the panels we will be using in the swamps to fix ruts and damage to the trail. We will also be discussing bridge design and contractors. If anyone knows of a qualified contractor with experience building bridges or other work in streams or lakes bring their name and number. we will begin taking bids soon.
Thanks goes out to the Trail Project committee for getting the information we needed to qualify for this grant.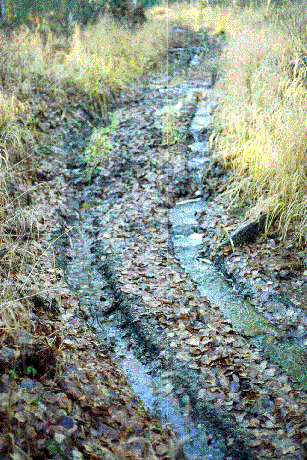 Summer trail now. 2002
Our new project will help prevent this trail damage.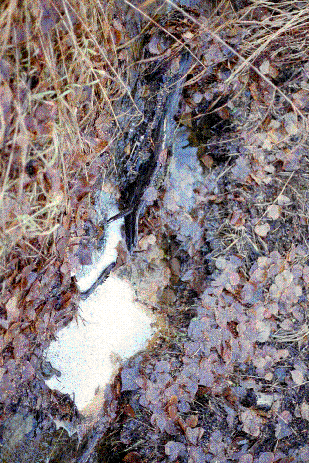 Pollution on the trail. yuk
Iditarod Trailblazers will begin working on the Iditarod Trail from Knik to Fish Creek.
The Swampy area between Malemute Run and Fish Creek Crossing will be receiving geotextile panels to protect the wetlands from motorized traffic in seasons that are not totally frozen. This will assist walkers, mushers,and atv riders to cross these wetland areas without damaging the trail. And provide better access to recreational land.
The National Historic Iditarod Trail will be improved to allow Summer use by pedestrians, atv users, Summer mushers, and sightseers. This project will allow swamps to be crossed without users sinking in the swamps or leaving big ruts in the sensitive swamp areas. A bridge will be placed over Fish Creek in Section 16 where the Iditarod Trail crosses the the river. This will allow users to cross the river without waiting for freeze-up. And will allow safe crossing in the spring when ice is unpredictable.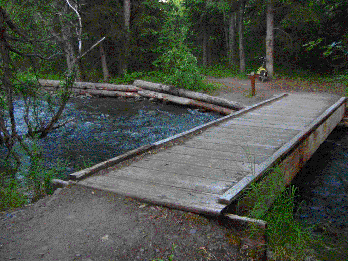 The bridge will be similar to the picture above. The span across the creek is apx. 20 feet. The depth of the river varies depending on the time of year. Fish Creek is not a navigable river. .
Part of the Grant is for Signs along the trail and at the bridge. We will need to coordinate some pictures and some historical information to go on the signs to make an interesting walk and learning experience. Bring your suggestions to the meetings so we can make this a truly community effort.