September 2002 meeting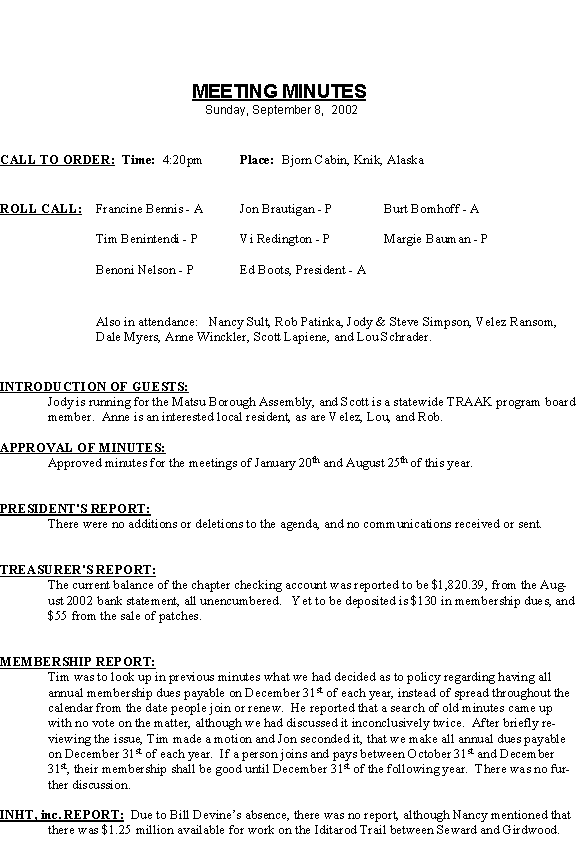 Old Buisness:
IRS Tax Exempt Application- Due to Francine's absence, there was no report.
ITB Patch Sales- No Report
Simms Grant-Tim Reported that he could not access teh trip reports on the website, but that he had had considerable computer trouble at the office. He will try again, and hopes to have the final report turned in by the next meeting. Tim was reminded that we get credit for administrative activities.
New Business:
Fish Creek Bridge: Margie and Nancy submitted a written report regarding this project. There are several permits to obtain, and it will be a much more substantial project than we first envisioned. Ed Boots suggeted to several members that the brige be named for Vi Redington.
Other Trail Maintenance Projects: Margie and Nancy suggested we apply for a second symms grant to pursue other trail projects. We need to finalize the first one before we can apply for a second. Tim will try to wrap up the first one by next meeting.
Fall Elections- Appointment of a nominating committee was discussed for the second meeting in a row, with out action.Tim voluteered to call all the directors and officers and assess peoples's interests, and report back at the next meeting. The possibilityof voting Jon and Burt another term, and continuing Ed as president, seemed the provailing sentiment.
Susitna Station- After some discussion on the neet to inspect a quartermile stretch on site and work up a proposal to cut brush and relocate the trail bed, it was dedided to authorize 3-4 people, including Jon and Nancy, to hire a boat for a ride up to Susitna Station to assess the project. It was moved by Margie and seconded by Benoni that a limit of $200 for hiring a boat and operato. plus $30. per diem for each participant up to four, be authorized, It was done by unanimous consent.
Bed Tax Grant-The Matsu Borough has a bed tax, and from those funds $130,000 in grants are available for tourism-related projects by non-Profit or user groups. The deadline for applying is November 15th.
Knik-Goose Bay Road Signs- Tim asked when the Joe Redington sign was going to be put up.. Jon Mentioned that the state DOT was going to replace them as soon as the roadwork is done. Other signage was discussed from previous inquiries with DOT, but no mushing related marker signs have been decided upon. DOT is still looking for input from area residents and groups as to what they want to see along the road.
Next Meeting The next scheduled meeting of the Knik Chapter was set for Sunday OCT. 6 at Marrgie Bauman's house at 4:00
Adjournment 5:40