Trail Projects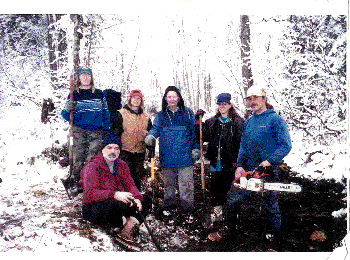 In 1998 the Iditarod Trail Blazers (Knik Chapter) applied for a matching funds Symms Grant which was awarded in 1999. The Iditarod Trail Restoration and maintainence project Mile 215-236 from the Nome sign apx 20 miles from Knik to Susitna Station 31 miles from Knik (This section does not follow the race trail. This section is part of the original trailbed. ASLS 83-001.) Actual work began the winter of 1999-2000, with approximately 4 miles being cleared and opened. The other 6 1/2 miles to Susitna Station was marked with survey tape and National Historical Trail markers. The 2000-2001 got off to a slow start due to lack of snow and warm temperatures. Work parties were able to make it out three times in February and March. On a positive note we were able to cut alot of fallen trees very close to the ground due to the lack of snow.
Summary of trail work from 12-31-01
The last day of 2001 dawned with a spectacular sunset that set a positive note for the day's activities. Jon, George and I left Knik at approximately 10:30 a.m. for a full day of trail work. Jon and George had been out the previous week to overview the trail conditions however a rear shock on Jon's snow machine broke on this ride causing them to return to Knik without making any real progress that day. The goal for today's work party was to cut back the re-growth from last year's efforts and hopefully make it a little farther.
This year brings back the recurring problem of LACK OF SNOW! We had to edge off the trail most of the way for the first 10 miles or so to have enough snow to keep the snow machines cool. Conditions improved after Burma Road allowing us to make better progress until we got close to the Little Susitna River. Jon had noticed the week before that someone had destroyed three of the tripod markers in this area so we cut some poles and re-installed them at appropriate locations.
At this point the historic trail is split off from the popular trail and the cutting back of the re-growth began in earnest. Lack of travel over this portion of the Trail has allowed the Devils Club to grow in quite thick. Jon suggested that we purchase a couple of machetes to cut back the Devils Club.
We thought we had cut back stumps etc. sufficiently last year but this year there was even less snow cover on the trail leaving last years work still poking out of the snow. At this point we also discovered a high incidence of recent deadfalls, which slowed our progress to a crawl. (Mile 20-25 or so) This was a major problem as the chainsaw Jon was using is in need of a new bar and chain. The chain would lock after about 10-15 minutes cutting and would require 10-15 minutes more to free it up for use. Our progress was halted when the chain finally gave it's last at about 4:00 or so.
We had stopped short of our goal by approximately 5 miles or so. Our goal for the next work party is to finish clearing deadfall in this area as well as constructing a safe passage of the "sidehill from hell" before the trail drops down near Fish Creek. After these goals have been met we will be in position to attack that portion of the trail for which the Grant funds were allocated.
Before we can do more work the saw that Jon was using will need a new bar and chain and machetes should be purchased. I would also recommend that if this saw is Jon's personal saw the Trailblazers should purchase a chainsaw strictly for Trailblazer use.
Next week we plan to take the alpine to the shop where I work so we can do the necessary repairs and have it ready to roll again. It was suggested that if we can round up a trailer we could depart from Little Susitna Boat Launch area instead of Knik. This would put us right in the area where the work is without wasting an hour or two riding to get there. Jon thinks he has one he can get street legal shortly. Hopefully our next work party will have a few more members and improved equipment so we can make some real progress.
Here are a few pictures from the work done on 12-31-01.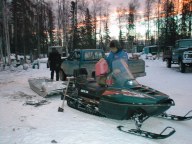 Departure from Jon's 10:30 am Tree in path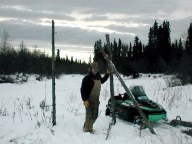 Fixing 4 mile marker New tripod at Susitna River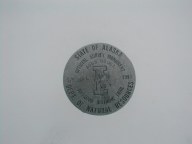 Survey marker from trail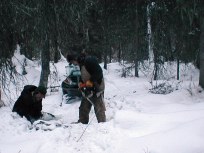 Log removal 101
More photos are available, if interested let me know. Looking forward to the next outing
When things will REALLY start to happen!
Submitted by - Ed Boots President Iditarod Trail Blazers - Knik Chapter
Public Notice 9/01/02
Iditarod Trailblazers will begin working on the Iditarod Trail from Knik to Fish Creek.
The Swampy area between Malemute Run and Fish Creek Crossing will be receiving geotextile panels to protect the wetlands from motorized traffic in seasons that are not totally frozen. This will assist walkers, mushers,and atv riders to cross these wetland areas without damaging the trail. And provide better access to recreational land.
The National Historic Iditarod Trail will be improved to allow Summer use by pedestrians, atv users, Summer mushers, and sightseers. This project will allow swamps to be crossed without users sinking in the swamps or leaving big ruts in the sensitive swamp areas. A bridge will be placed over Fish Creek in Section 16 where the Iditarod Trail crosses the the river. This will allow users to cross the river without waiting for freeze-up. And will allow safe crossing in the spring when ice is unpredictable.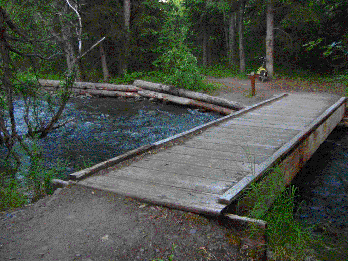 The bridge will be similar to the picture above. The span across the creek is apx. 20 feet. The depth of the river varies depending on the time of year. Fish Creek is not a navigable river.
We will be placing signage at the Creek and will be naming the bridge "Vi Redington Fish Creek Bridge" and we will reference the TRAAK/ Recreational Trail Grant on this sign.
Trail work in 1998
2001 Mile 215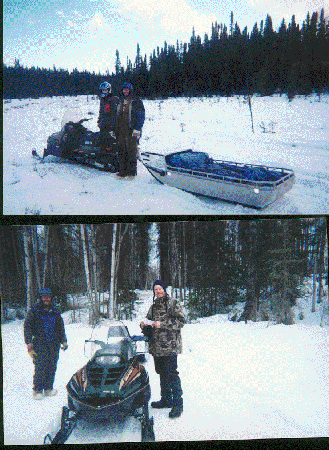 Mile 9 George and Ed