Iditarod Trailblazers Knik Chapter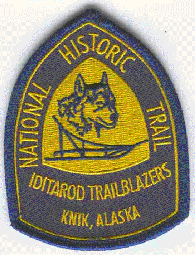 Thanks to the TRAAK board for approving our grant application on 11/23/02. We are qualified to receive $20,000 for our Vi Redington Fish Creek Crossing Project.
Details at the Dec. 8th Meeting!
See you there.
Welcome to the Iditarod Trailblazers web site.
The mission of the ITB is to further interest in re-establishing and memorializing the historical trail, commonly refered to as the Iditarod Trail, in the State of Alaska; to purchase, commission or otherwise procure, and to publish or otherwise preserve writings, logs, artifacts, journals, paintings, photographs and the like, which shed light on the history of the Iditarod Trail and surrounding areas; to discover, procure and preserve physical objects that may relate to the history of the Iditarod Trail and the surrounding areas; to re-establish and possibly purchase interests in land comprising portions of the Trail and surrounding areas to preserve and memorialize same; to preserve and re-establish the Iditarod Trail in its original historic location; to establish and maintain a meeting place on land owned or leased by the Corporation; to support local historical societies in establishing , maintaining and preserving museums, cabins and the Knik Mushers Hall of Fame; and to hold regular meetings and other activities for the recreation, instruction, and education of the members, as well as the general public.